Cutting Edge Optronics (CEO) has developed the DC2P, a dual-channel laser diode driver that reduces diode-pumped solid-state (DPSS) laser system complexity and cuts required electronics rack space in half. Many high-energy DPSS laser systems utilize multiple large amplifier modules with a significant number of pump laser diode bars required to pump the laser crystal in each module. An example DPSS laser for materials processing employs 10 of CEO's 1" REA Power PulseTM amplifier modules with almost 500 pump laser diode bars per module, along with several smaller modules. In place of 30 stand-alone 2U eDrives, CEO's new DC2P dual-channel driver (also 2U) condenses the total number of drivers in the system's electronics rack to 15. Each of the two channels in the DC2P delivers 300A current pulses and supports loads up to 365V (~168 laser diode bars.)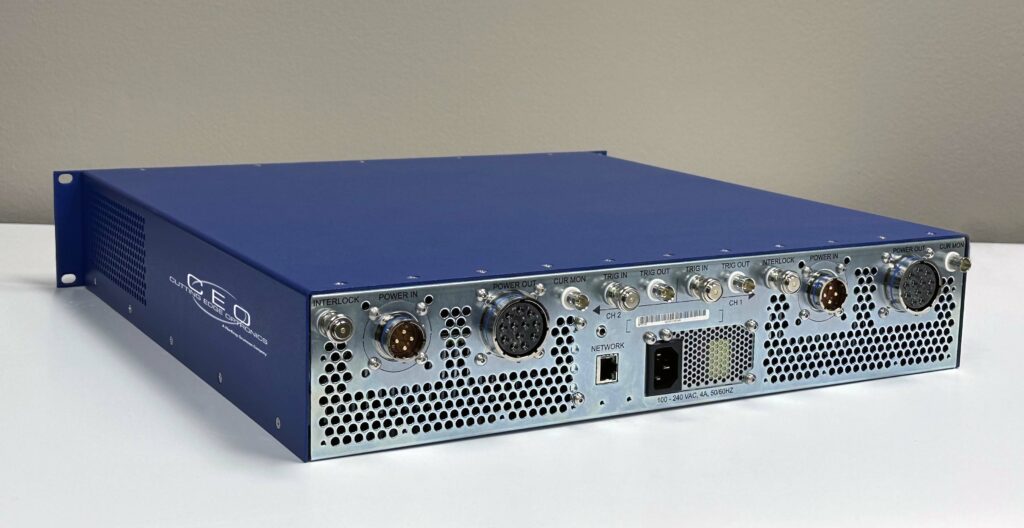 The new driver also simplifies overall laser system architecture, particularly for industrial applications that rely on remote computer control. Communication utilizes the Telnet protocol over TCP instead of a front panel interface, with built-in safety features to protect the laser system if communication is lost. AC input power and Ethernet network connection is shared between the channels in a single unit, with each channel independently controlled and triggered remotely for fine-tuning of each module's performance and timing within the laser system.
"This new dual-channel driver is a significant advancement for controlling any DPSS laser system more complex than a simple, single-module laser," said Ryan Feeler, CEO's CTO / Director of Business Development. Added Feeler, "Many large OEM, scientific and industrial DPSS laser applications will benefit from the significantly lowered system footprint and ease of use afforded by the DC2P dual-channel driver."
The DC2P represents the latest development in CEO's laser diode drive electronics product line. CEO continues to push the envelope of what's possible in sophistication, functionality, and size reduction, and is looking forward to releasing the next generation stand-alone eDrive soon.
For additional information on CEO's custom high-energy DPSS laser systems, see this short video. Contact us for more information about the DC2P and any of our laser diode, laser module, drive electronics, and laser system products for more details.
Approved for Public Release: NG23-0038 © 2023, Northrop Grumman.