Cutting Edge Optronics (CEO) recently manufactured one of the largest commercially available diode pumped laser amplifiers in the world. The laser amplifier pumps a one inch diameter Nd:YAG laser rod with more than 400 QCW laser diode bars, and produces more than 9 Joules of gain-switched energy and over 7.5 Joules of stored energy. This is one example of several large laser amplifiers CEO has manufactured over the past 12 months. In order to keep up with the record demand level for laser amplifiers, CEO has doubled its manufacturing capability in 2014.
"Customer orders from the Industrial Manufacturing and Research markets are exceptionally strong. A large scale transition from lamp-pumped to diode-pumped technology for high energy, high peak power pulsed lasers is finally underway" said David Jones, CEO's Director of Sales and Marketing. Jones continued "the combination of higher power laser diode bars, robust and reliable laser diode bar packaging, and more affordable prices are all driving the technology transition".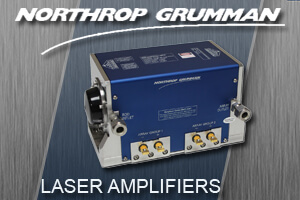 CEO designs and manufactures every component, from the laser diode bars to complete DPSS laser systems, in its 36,000 ft² facility in St. Charles, Missouri USA. This vertically integrated business model allows for modular scaling of standard products to produce customized laser solutions at the best value to the end user. CEO works closely with clients from the design phase through the manufacturing process to help ensure a successfully fielded product that performs on day one.
Contact Us
Approved for Public Release 14-1214
© 2014 Northrop Grumman Systems Corporation – All Rights Reserved