Cutting Edge Optronics (CEO) celebrated its 30th year of operation on October 8th, 2022. Located in St. Charles, MO, CEO is a wholly owned subsidiary of Northrop Grumman Systems Corporation. The company manufactures sophisticated high-powered diode-pumped solid-state lasers (DPSSLs) and key subcomponents for DPSSLs, including laser gain modules, laser diode arrays and laser diode bars. As one of the only vertically integrated laser manufacturers in the United States with 100% domestic production, CEO has grown into a thriving, competitive global business. CEO credits its success to the sustained efforts of a highly diverse, committed and skilled workforce where every employee contributes in a meaningful way to every product shipped. The company celebrated its 30th year with a company picnic. Current, past and retired employees were all invited with their families to celebrate the milestone, with every employee receiving a commemorative t-shirt.

The History of CEO
1992 – 2000: CEO as a Small Business

Cutting Edge Optronics was founded in 1992 near St. Louis by two former McDonnell Douglas Aircraft Company (MDAC) employees. MDAC had a long histo­ry of developing lasers for optical communication, laser range finders, and directed energy (Star Wars) weapons. CEO began its business as a small custom laser development group focused on commercial lasers for use in industrial manufacturing.
The first products produced by CEO were com­plete laser systems and important subcomponents such as laser drive electronics and laser gain modules. In the first few years before CEO developed its own sophisticated manufacturing operations, the company purchased subcomponents for laser gain mod­ules, assembled them, and then performed final testing. CEO expanded its capabilities to laser bar packaging with the Silver Bullet product and opened its own laser diode bar and array manufacturing facility in 1995/1996. In a few short years, with in-house laser diode bar production combined with the design flexibility of the Silver Bullet package, CEO became a market force supplying the laser industry with cost effective, quick turnaround laser solutions.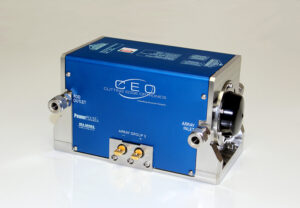 Throughout the late 1990s CEO continued to sell full custom lasers, but its real growth came from developing cost effective gain modules and arrays that were sold to Asian com­panies making laser marking/engraving machines. In 1998 CEO moved to its current St. Charles, MO facility and expanded production capabilities further by doubling manufacturing floor space, which allowed the business to further increase its breadth of product offerings.
2000 – 2002: TRW

In 2002, CEO was purchased by TRW, a large manufacturer of satellite & space hard­ware, automotive parts and a developer of large custom laser systems. It acquired CEO as a way to transition TRW's large, military laser systems into commercial products for industrial manufacturing. TRW doubled the size of CEO's manufacturing space and transferred ~20 employees from California to CEO to pursue laser based Extreme Ultraviolet (EUV) photolithography technology for use in the production of microprocessors (such as Intel PC chips). TRW also had a long historical involve­ment with directed energy weapons and was the first company to shoot down a missile in flight with a high-powered laser.
2002 – Present: Northrop Grumman

TRW was acquired by Northrop Grumman in 2002 for its technology in satellites, space systems and high-powered lasers enabling CEO to develop high powered laser technology and accomplish large increases in power and performance. With the inclusion of components and technology developed at CEO, Northrop Grumman produced a world record high-powered directed energy weapon exceeding 100,000 watts. In the past decade, CEO has expanded its product lines and markets to over 400 customers in 40 different coun­tries.
CEO products can be found in:
Ultra-high power laser weapons for the U.S. military (missile defense)
Underwater mine hunting systems
Bathymetry (underwater mapping) systems
Target designation and range finding apparatus
High power lasers for diamond cutting
Laser and optical amplifiers for scientific research
Microelectronic manufacturing
Laser marking systems
Laser annealing systems
Coating removal systems
Dermatology (hair removal) laser systems
CEO has experienced tremendous growth during the past three years, with a record backlog that has positioned the company for continued success in both current and new markets. To address this significant upturn, CEO is expanding its cleanroom manufacturing space to increase capacity and improve capability in wafer processing, laser diode packaging and diode array production, which are the foundation of its overall business. The next decade should be the most exciting of CEO's history. We look forward to celebrating the next anniversary in 2032.
Current and past employees celebrate "30 Years of Awesomeness" at the CEO company picnic.
Approved for Public Release: NG22-1935 © 2022, Northrop Grumman.